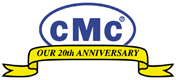 Shopping Area
Please check back frequently! We are adding products weekly.
---

12″ – 18″ CMC Axial Fans operate with a minimum of maintenance. And they're versatile-all feature reversible application PLUS you can mount either end to air duct, metal transition or flat wall bin.
Features:Sizes from 3/4 to 3 h.p.Carrying Handles and leg standsVinyl coated fan guards
Click 

to purchase.
---
Bin & Building Sealant

Handy 5-Gallon pail so you won't run short.
Features:Easy, brush on applicationFlexible, Latex rubberNylon Mesh for added strength on large seamsWater & weather resistantBonds to steel, concrete and wood
Click 

to purchase.
---
Grain Sampling Kit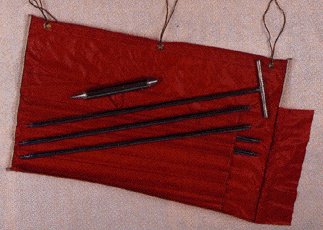 Easy Insertion at Any Location or Depth for Accurate reading.
Features:Moisture testingOdor detectionVisual inspection of grain and fines for mold or insects
* Each kit contains one 6 oz. probe and screw-together 15′ handle in a heavy-duty vinyl case.
Click 

to purchase.
---
LevALERT – Level Indicator

In a glance, the LevALERT Indicator shows you the level of materials in your bin while you remain safely on the ground. Whether you fill your bins once a year or several times a day, LevALERT saves you time, labor and money. The LevALERT can sense almost any granular bulk solids ranging from powders to pellets that weigh between 15 and 100 lbs./cubic foot.
Features:Easy installation – Fully assembled and ready to install from outside your binHigh visibility – Can be easily seen from 200 ft., day or nightNo electricity required – Completely mechanicalAdaptability- Easily accessorized w/ an optional elctrical sensor to activate horns, lights, motors, etc.Increased safety – Virtually eliminates the need to climb into bins to check their levelsA money saver – Greatly improves your operation by saving you time, wear and tear on equipment
Click

to purchase.
---
OPI-ONE Grain Temperature Monitor


When your livelihood depends on crop quality, you need OPI-ONE in your bins. The OPI-ONE Grain Storage Management System from CMC monitors your stored grain's temperature and detects hot spots so you can head off spoilage.
Consisting of one or more cable probes and a plug-in monitor, this easy-to-master system gives precise data about your storage and cooling bins. With just the push of a button on the hand-held control, you get critical information about the temperature at fixed points in the bin. OPI-ONE is what we use at CMC as the nerve center of our Pressure Cure Dry System. OPI-ONE earns you money and saves heartache, as our thousands of satisfied customers can testify. That's why, for more than 10 years, we've marketed the OPI-ONE as an essential component of any successful operation. CMC's Grain Storage Managment specialists provide you with free system configuration planning and expert instruction so you get the best results right away. Plus, they provide expert technical assistance anytime after your purchase.
Click

to purchase.
---
Roof Vents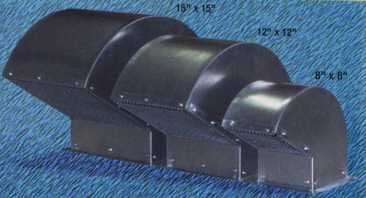 CMC's sturdy Air Flow Vents eliminate the need for comparison shopping. Their galvanized steel body, heavy angle base, and standard bird screen make them the first choice of discriminating farmers everywhere. And they're designed for easy installation in minutes by one person.
Whether you're adding vents to new or existing bins, CMC Air Flow Vents are the best. Order today and we'll ship tomorrow at the latest!
Features:70 degree angles for proper ventilation and weather resistance.Heavy, easily detachable angle baseLock seam jointsBird-proof screen100% galvanized to withstand years of nasty weatherSymmetrically punched holes make one-person installations a breezeDouble edges add strength