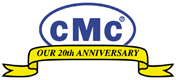 Other Quality Accessories
Fan Adapters
CMC has many sizes available to match any fan to your existing transition for a perfect fit.
LevAlert
Keep your feet on the ground while you check bin levels during harvest or any other time with LevALERT
CMC Grain Sampling Kit
Easy Insertion at Any Location or Depth for Accurate
Moisture testing
Odor detection
Visual inspection of grain and fines for mold or insects
Each kit contains one 6 oz. probe and screw-together
15′ handle in a heavy-duty vinyl case.