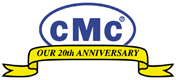 Lease Your Equipment with CMC
Large and Small Ag Operations Everywhere
Are Gaining Financial & Tax Advatages!
Gary Ward, CMC's leasing manager, can tailor a leasing program on nearly any major equipment, including the Pressure Cure Dry System, to fit almost any budget.
"Wether you farm 5,000 acres or a quarter-section, leasing your CMC Pressure Cure Dry System, bins, and other major equipment makes good business sense." – Gary Ward
A professional leasing specialist, Gary knows more than a little  about the business of farming.  He grew up in a farming family and has worked in the agricultural field for close to 20 years.
Call Gary at 1-888-257-1785
Leasing offers large and small farmers faive main advantages over cash or conventionally financed purchases.
Locked in rate. Banks currently offer only adjustable rate loans on agricultural equipment. With leasing, the rate and the payment remain the same for the term of the lease; allowing the customer to budget more effectively.
Tax Advantages. Both individuals and corporate farmers gain a tax advantage from leasing. Consult your accountant or tax attorney for details.
Preserves line of credit. Leasing has no bearing on a farmer's bank credit line and is tied on to the equipment leased. A bank may cut off a farmer's credit that has borrowed funds for operations or other equipment.
Better cash flow. With its flexible payment schedules, leasing allows farm families and corporations to make their payments when they can best do so. We tailor a payment schedule that works best for you.
Flexible terms. The upfront payment, or amount down, can be 10%, 15%, 20% or more based on what works best for your cash flow and budget. The lease can run from three to seven years with payments made annually, semi-annually, or monthly.